Now with USB MIDI/AUDIO!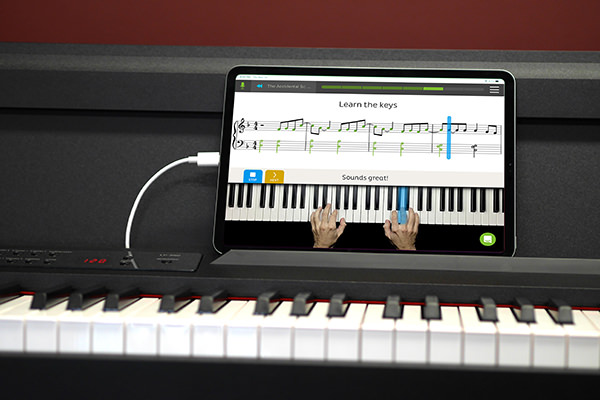 You can use a USB cable* to connect this instrument's USB port to your smartphone, tablet, or computer, and use the LP-380U as a MIDI keyboard to play an external sound module. Your performance on the LP-380U can be recorded as music data on your smartphone, and sound from your smartphone can be heard through the speakers of the LP-380U.

*USB cable sold separately for connection to your PC, and a USB cable + Lightning-USB camera adaptor or USB B to C cable (both sold separately) for connection to your iPhone or iPad.
The LP-380 provides a brilliant piano sound in a low-profile, slim design. The flat-top cabinet looks stylish even when the key cover is closed.
The high-output amplifier and speakers accurately reproduce a realistic piano sound, while Korg's flagship RH3 keybed enables expressive performances. 
Great value as a starting instrument.
 The Real Weighted Hammer Action 3 (RH3) keyboard reproduces a similar playing experience as on an acoustic piano, with heavier response in the lower register that becomes lighter as you play upward. With improved response to repeated keystrokes, even rapid passages can be reproduced without impairing the expression of the performer.
There's also a Key Touch Control function that lets you choose one of three levels to specify how your playing dynamics will affect the sound, allowing you to personalise the instrument to your own keyboard touch.

Available in White, Black, Rosewood, and Black Rosewood.
Keyboard: 88 key (A0–C8), RH3 (Real Weighted Hammer Action 3) Keyboard
Touch selection: Light, Normal, Heavy
Pitch: Transpose, Fine tuning
Temperament: 9 types
Sound generation: Stereo Piano System
Maximum polyphony: 120 voices
Sounds: 30 (10 x 3 Banks)
Acoustic Piano x 5, Electric Grand, Electric Piano x 6, Harpsichord, Clavi x 2, Vibraphone, Marimba, Acoustic Guitar, Jazz Organ x 3, Pipe Organ x 3, Strings x 3, Choir 3
Effects: Brilliance, Reverb and Chorus (3 levels each)
Demo Songs: 30 (Sound Demo song x 10, Piano Demo Song x 20)
Metronome: Tempo, Time signature, Accent, Sound and Volume controls
Pedals: Damper*, Soft*, Sostenuto *Half-pedalling supported
Connections: Line Out, MIDI (In, Out), Headphones x 2, Pedal, Speakers, DC19V
Controls: Power, Volume, Piano Song, Transpose, Function, Touch, Brilliance, Reverb, Chorus, Bank, Sound x 10, Up, Down, Metronome
Amplification: 22 Watt x 2
Speakers: 10cm x 2
Power supply: DC 19 V, AC adapter (included)
Power Consumption: 15W
Dimensions: (W x D x H)
135.5 x 35.1 x 77.2 cm
135.5 x 35.1 x 93.6 cm (with key cover opened)
Weight: 37 kg (including Stand)
Accessories: AC adapter, Stand