A compact chromatic tuner with a dedicated microphone and vivid, full color display.
Announcing a new compact tuner for the brass band and orchestral performer.
The Slimpitch features a high-brightness, high-contrast color LCD for superb visibility. The body is more compact than ever, making the unit small enough to fit in your hand. A dedicated contact mic is included, and a newly-developed magnet mechanism lets you attach the unit to your music stand without obstructing the sheet music.
With enhanced visibility and improved ease-of-use, this tuner sets a new standard that is exemplary of KORG's attention to detail.
Advanced color LCD provides a new dimension of visibility.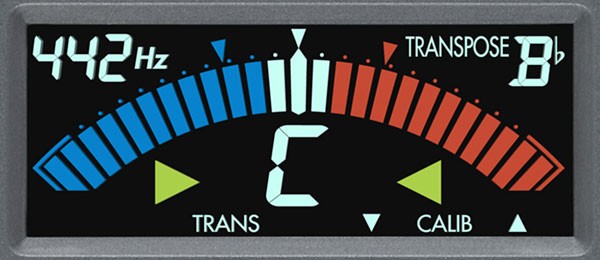 This unit features a color LCD display, a first for KORG hand held tuners. A brilliant white backlight and an extremely clear color VA meter provide high contrast and a wide viewing angle. In addition to improving visibility, the text and the meter display are color-coded for dramatically easier pitch recognition. Rather than having to "watch" the meter, the performer merely has to "sense" it; these models allow instant recognition of your tuning status.
Compact design makes for easy portability.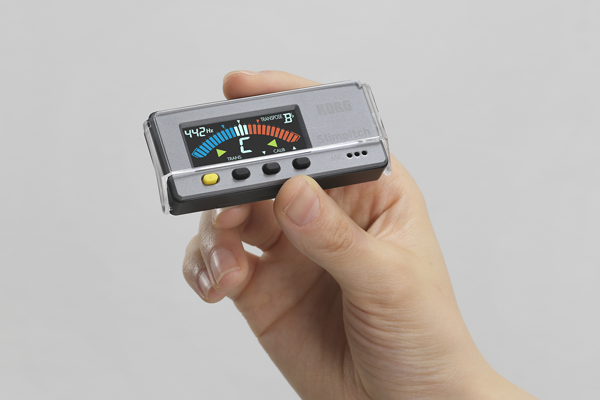 Even smaller and more compact than the previous card-sized units, this new model is smaller than a pack of gum, allowing it to easily fit into your instrument case or pocket. The weight has also been reduced to approximately one third of the previous model for effortless portability.
Dedicated mini-jack contact mic is included.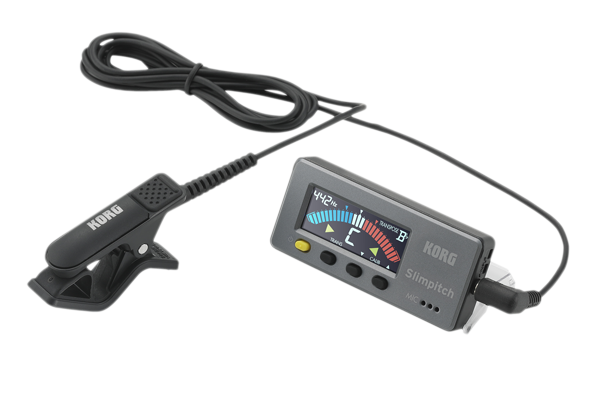 In cases where it's difficult for the built-in mic to pick up your own sound, such as when everyone is practicing at the same time, you can use the included contact mic. Just as with the KORG CM-200, this mic provides excellent sound transmission, durability, and fit. The Slimpitch uses a 3.5mm mini-jack as for the external contact mic, a first for KORG tuners. Providing a smaller jack allows the entire body to be more compact.